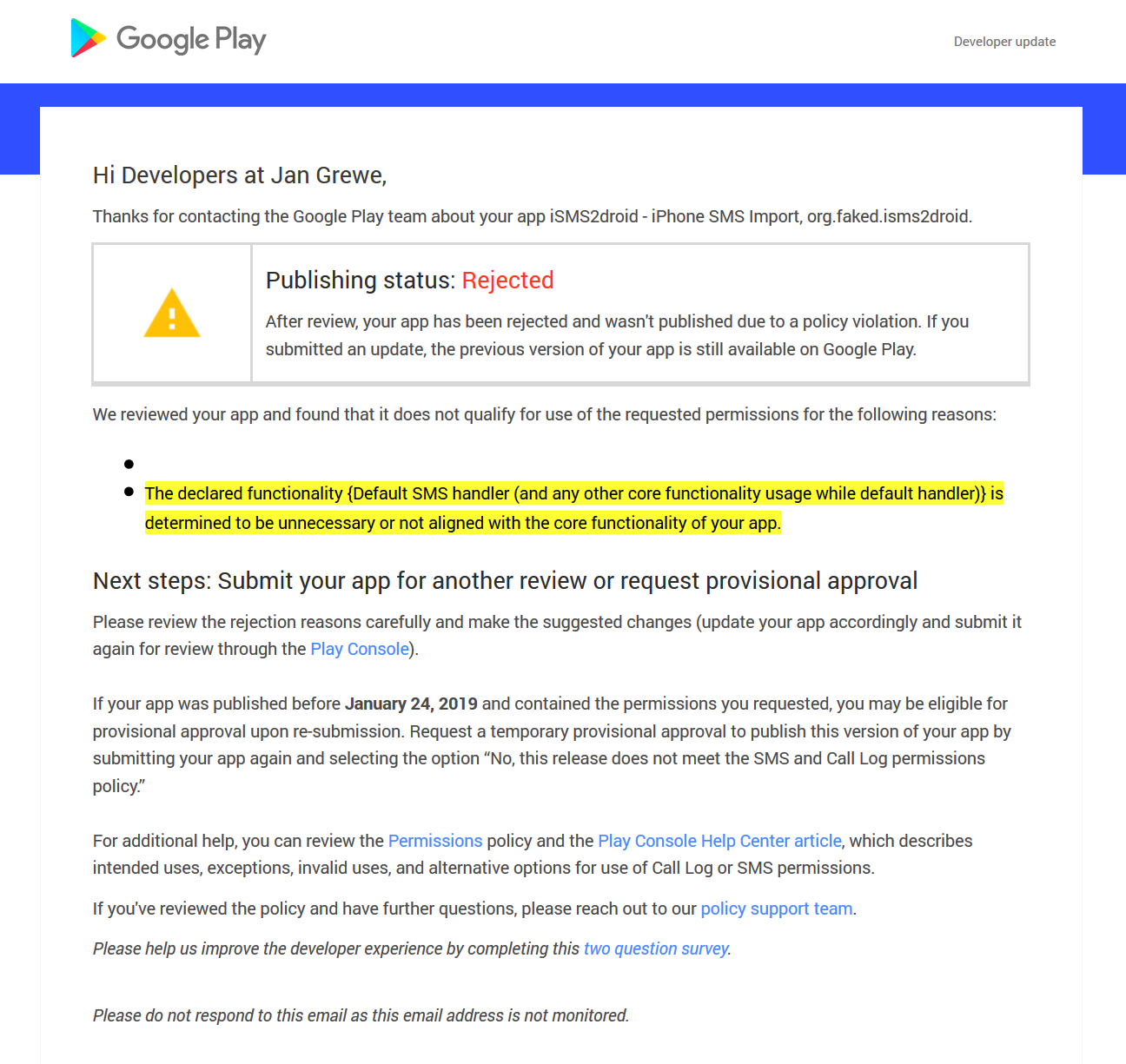 Google has removed iSMS2droid from the Play Store on March 19th, 2019.
This action came after their decision to restrict the SMS and Call Log permissions for 3rd-party apps like iSMS2droid, unless they received an exemption from these restrictions – which was initially granted to iSMSdroid, but later revoked for no apparent reason.
Further attempts to regain the exemption status (by submitting new approval requests and updated app versions with explanations, usage instructions and sample databases) were unsuccessful, as Google maintains the position that iSMS2droid does not require the "Default SMS Handler" permission, as it is not required for the core functionality of iSMS2droid.
This is of course not the case, as the core functionality of iSMS2droid is writing SMS messages to a device, and any app that wants to write SMS messages to a device ("restore") has to be the "Default SMS Handler" since Android 4.4 (KitKat) in 2013, as explained in their blog post on this topic.
Being the "Default SMS Handler" is a requirement for iSMS2droid to work, and this very core functionality of "Backup and restore for users", as Google calls it, is indeed listed as a valid exception to their general restriction for this permission in their support article.
I don't know why they keep on rejecting my app, no matter evidence i provide to them that my app complies with their policies.
And not being able to speak to a human – about the exact reason why they think my app presents a danger to Android users – is very frustrating.
There seems to be no way to get iSMS2droid reinstated on the Google Play Store, which also means there won't be any new versions with fixes for bugs or features like full support for attachments (which i am indeed working on!).
Until further notice, iSMS2droid should be considered dead.
PS: For those desperate enough, the previously retired Online Coverter is back online.
Timeline of Events
2018-11-16: First notice about new permission policy
2018-11-2?: Permissions Declaration Form (PDF) submitted
2018-11-28: PDF rejected, missing Privacy Policy page
2018-12-14: Second notice about new permission policy
2019-01-03: Final reminder about new permission policy
2019-01-0?: New PDF submitted
2019-01-09: Approval for "Backup and restore for users"
2019-01-10: Confirmation of permission extension(?) until 2019-03-09
2019-01-10: Permissions not granted, "unable to test"
2019-01-18: Contacted Developer Support, why revoked
2019-01-19: Reponse that they couldn't test
2019-03-0?: New APK uploaded, with permission declaration
2019-03-10: APK rejected, "missing default handler declaration"
2019-03-10: New APK uploaded, declaring default handler
2019-03-10: APK rejected, "default handler not necessary"
2019-03-19: iSMS2droid removed from Google Play Store
Update 2019-06-03
I uploaded an updated APK with all the instructions and explanations i could fit into the 500 characters limit of the form that is provided, and my app got rejected again. Much to my surprise, this time they didn't reject it because of the "Default SMS Handler" permission, but because they the "Write and Show Call History in Dialer" permission doesn't match the core functionality i described.
Let's hope they don't reject the app the next time i submit it again and try to squeeze that second core functionality into the description/instructions, because an app can't have two core functionalities? Either way i'll give it one more shot.